Visiting Amalfi from Sorrento
Take a day trip to visit the historic Marine Republic of Amalfi from Sorrento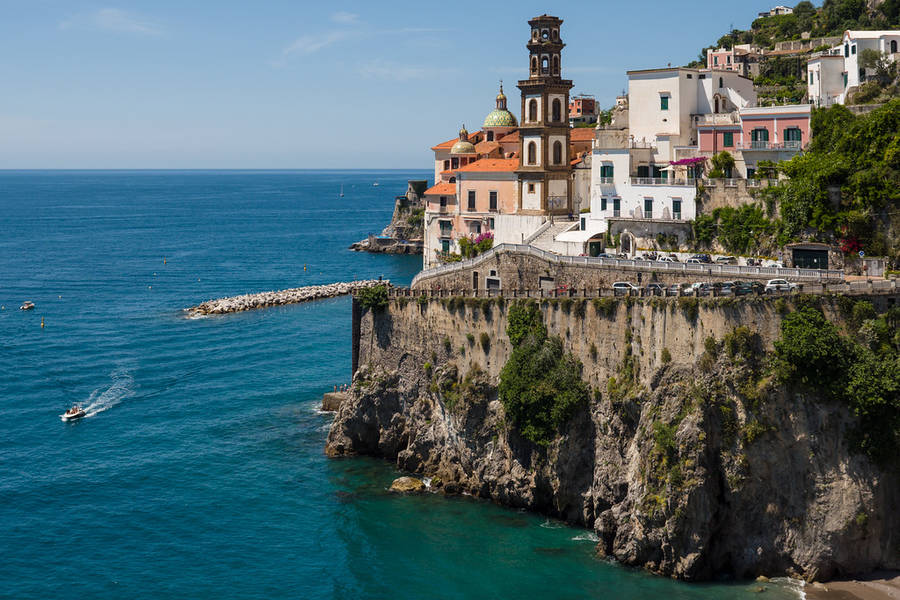 The historic Marine Republic of Amalfi was once the most powerful town on the Amalfi Coast, so much so that the entire coastline is named after this economic and military capital. Visit this beautiful town for its picturesque historic center and unforgettable views, but also for its and architectural treasures, including the stunning Duomo di Sant'Andrea.
Getting to Amalfi from Sorrento
Amalfi is not far from Sorrento, but the coastal road between the two is particularly winding and it will take an hour of curves before you arrive. We suggest opting instead for a ferry, as routes leave Sorrento for Positano and Amalfi daily during the summer season. There is also a public bus which takes about an hour and 20 minutes.
Unlike steep Positano, the town center of Amalfi is flat and the port and main piazza are both at sea level, as is the Duomo di Sant'Andrea.
Parking in Amalfi

There is a large parking lot between Amalfi and the neighboring town of Atrani called "Luna Rossa". Rates are EUR 3/hour for cars or EUR 4/hour during the month of August.

Visiting Amalfi
You will find yourself in Amalfi's main piazza as soon as you step into town, which you will recognize immediately for its breathtaking Duomo which sits at the top of a majestic staircase.
The Duomo di Sant'Andrea was begun in the 9th century, and the soaring belltower was finished in 1276; the facade was renovated in the 1800's after a partial collapse. From the Duomo, you can also enter the Basilica del Crocifisso, which dates from the year 1000, and the Cloister of Paradise built in the 1200's to hold tombs of the city's most important citizens.
After visiting the Duomo, stop in to see Amalfi's Antique Arsenals and adjacent museum, where warships were built during the city's height of power as a Marine Republic, and the charming Paper Museum. If you follow the gorge up the cliffside above the town center, you can still see remains of a number of paper mills which were once powered by the water of the mountain streams as they flowed down toward the sea, producing Amalfi's fine quality paper which is still sold in small quantities today.
Atrani, the Smallest Town in Italy
If you are touring Amalfi, you should take the time to visit nearby Atrani just a kilometer away. This tiny village retains its original Medieval layout with houses linked to each other by tunnels and staircases, giving it a Nativity Scene charm. The village begins at the water's edge and climbs the coastal cliff, occupying so little ground that it is considered "the smallest town in Italy". The unique architecture of this town's warren of underpasses and steps inspired a number of the artist Escher's works.
Guided tours
All the charm of the Amalfi Coast in a private tour to the most beautiful spots along this famous coastline, includingo Positano, Amalfi, and Ravello. We'll also pass the pretty villages perched on the cliffside and have breathtaking views of the Bay of Naples.
Guided tours
Are you ready for an unforgettable day on the Amalfi Coast? Depart from Sorrento by luxury sedan and stop in Amalfi, Positano, and Ravello, enjoying your drive along the winding coastal road with its marvelous views. You'll have time to stop to snap unforgettable photos and explore each town.
Guided tours
This tour by luxury car from Sorrento to the Amalfi Coast includes the most beautiful spots along the coast: bustling Amalfi, picturesque Positano, and stunning Ravello. We'll also pass the charming fishing villages of Furore, Praiano, Conca dei Marini, and Scala.
Duration: 8 ore
Recommended experiences and tours
Transport and Rental
Travel to Capri from Naples (or vice versa) in just 40 minutes on board a high-speed luxury speedboat for a fast and comfortable arrival in style! This all-inclusive service begins with a pick-up by private car at your hotel on Capri or airport/station in Naples.
from € 780 € 850

-8%
max 8-10 passengers
Transport and Rental
The fastest transfer on the seas! In just 20 minutes you can continue your vacation from Capri to Sorrento and take advantage of every minute on your holiday! Save time, skip the long queues and delays by travelling from Capri to Sorrento (or vice versa) by a powerful and luxury speedboat!
from € 490 € 610

-20%
max 8-10 passengers
Transport and Rental
Reserve your scooter online to visit Capri in complete freedom without having to face the long lines for the funicular and bus.
This package includes a 6 hour rental from 10 am to 4 pm, with delivery at the port of Capri just steps from where you disembark from the ferry!
from € 40 € 55

-27%
Per scooter
Guided tours
A full day on board a luxury sedan with an expert driver to explore the most famous spots along the Bay of Naples: Sorrento with its picturesque historic center, the ruins of Pompeii, and the most beloved town on the Amalfi Coast, Positano.
Duration: 8 hours
Guided tours
Book Sorrento Limo's private transfer from Sorrento to Positano with English speaking driver on a luxury vehicle plus 2hours tour at Pompeii!
Guided tours
An all-day, all-inclusive DIY day trip on Capri, ideal for visitors who plan on arriving first thing in the morning and taking advantage of every last minute until the sun begins to set! You won't miss a thing with this package.