Day Trip to the Amalfi Coast from Sorrento
How to organize a day trip from Sorrento to the Amalfi Coast
Sorrento is the perfect base for visiting the nearby Amalfi Coast by bus or ferry, with an organized tour, or with a private driver.
Here are all your options, with their specific pros and cons:
Day trips to the Amalfi Coast by Bus
Sita Bus
Sita buses depart from Sorrento directly for Positano and Amalfi all day. The terminal is opposite the Circumvesuviana station in Sorrento and you can purchase your tickets there.
The bus stops first in Positano and then in Amalfi. To take the bus further south or visit Ravello, you will have to transfer to a different route in Amalfi.
Pros: tickets are quite inexpensive (less than EUR 3) and buses run relatively frequently. If you can get a seat on the right side of the bus, you will be treated to great views along the route.
Cons: buses are always crowded and there is not always seating for all passengers, especially if you board along the route. The ride takes over an hour and follows the notoriously curvy coastal road, so is not recommended for those who suffer from motion sickness.
Coast to Coast Bus
Coast to Coast tour buses are part of the Cityseeing tour company. These are double-decker buses with an open top which follow the same route as the Sita buses, stopping in Positano and Amalfi. Day passes (which are hop-on-hop-off) coast around EUR 15.
Pros: less crowded than Sita buses, with better views and an audio guide.
Cons: tickets are more expensive, and it is not recommended for those who suffer from motion sickness.
Day Trips from Sorrento to Positano and Amalfi by Ferry
This is an excellent option, both convenient and fun! Public ferries from Sorrento to the Amalfi Coast depart from the port and stop at the ports of Positano and Amalfi, both of which are right near the center of town so a convenient starting point to visit these towns. Tickets cost around EUR 10.
Pros: a pleasant and scenic ride, far from the coast's notorious traffic
Cons: high speed ferries only run from April to mid-October, and routes are suspended in case of rough seas
Amalfi Coast Boat Tours
A number of different boat tour companies depart on organized group tours from the Sorrento port, offering mini-cruises to the Amalfi Coast. You can choose between large tour boats or smaller crafts for a maximum of 10-12 passengers. Lunch on board is often included, and almost all tours stop for a bit at Positano and Amalfi to give passengers a chance to explore. You can also hire a private boat, with or without a skipper.
Pros: this is by far the best option on hot summer days, especially if you hire a private boat or book a tour on a smaller craft with less than 10 passengers which will stop for a swim along the route
Cons: more expensive, and tours do not depart on days when sea conditions are rough
The Amalfi Coast by Scooter
There are number of scooter rental agencies in Sorrento which offer rentals for one or more days. We recommend renting a scooter only if you have had a bit of experience driving on two wheels, as the winding and steep roads along the coast are not the best place to learn!
Rental costs around EUR 30/day.
Pros: complete freedom to explore, and no issues with parking
Cons: only recommended for those with some experience driving a motorcycle or scooter
Private Tour of the Amalfi Coast by Car
A car with driver is definitely the most comfortable way to tour the Amalfi Coast, with a customized itinerary and stops along the way.
Pros: customized itinerary, complete comfort and safety, perfect in any season
Cons: relatively expensive. A day tour begins at EUR 350
Guided tours
All the charm of the Amalfi Coast in a private tour to the most beautiful spots along this famous coastline, includingo Positano, Amalfi, and Ravello. We'll also pass the pretty villages perched on the cliffside and have breathtaking views of the Bay of Naples.
Guided tours
Are you ready for an unforgettable day on the Amalfi Coast? Depart from Sorrento by luxury sedan and stop in Amalfi, Positano, and Ravello, enjoying your drive along the winding coastal road with its marvelous views. You'll have time to stop to snap unforgettable photos and explore each town.
Guided tours
This tour by luxury car from Sorrento to the Amalfi Coast includes the most beautiful spots along the coast: bustling Amalfi, picturesque Positano, and stunning Ravello. We'll also pass the charming fishing villages of Furore, Praiano, Conca dei Marini, and Scala.
Duration: 8 ore
Recommended experiences and tours
Transport and Rental
Buy your ticket online now and save on your island boat tour!
Transport and Rental
Reserve your scooter online to visit Capri in complete freedom without having to face the long lines for the funicular and bus.
This package includes a 6 hour rental from 10 am to 4 pm, with delivery at the port of Capri just steps from where you disembark from the ferry!
from € 40 € 55

-27%
Per scooter
Transport and Rental
Travel to Capri from Naples (or vice versa) in just 40 minutes on board a high-speed luxury speedboat for a fast and comfortable arrival in style! This all-inclusive service begins with a pick-up by private car at your hotel on Capri or airport/station in Naples.
from € 780 € 850

-8%
max 8-10 passengers
Guided tours
If you are visiting the Amalfi Coast with a group of 20 or more, book our hiking guide service including 2 professional guides who can lead your group along a number of hiking routes or trails.
Guided tours
Add a city tour of Naples and pizza tasting to your Naples - Amalfi Coast transfer! Book a transfer from the airport, train station, or hotel in Naples to Positano, Amalfi, or Ravello (or vice versa) and enjoy a tour of Naples by car with a stop to taste authentic pizza.
Duration: 3-3.5 hours
from € 240
duration: 3.5 hours
Guided tours
Are you interested in learning about how the historic "Lacryma Christi" wine is produced? Our wine tour takes you to the vineyards where this wine is made, with a visit to the cellar and lunch with a choice between two menùs. After your tasting, the tour continues to Pompeii and Herculaneum.
Quick links
Excursions by sea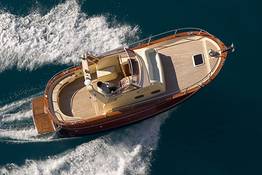 Exclusive private tours to destinations on the Bay of Naples
Guided tours